Elisabeth Krone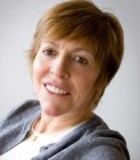 Head of Language Services at ARTE since January 1992
Conference interpreter (A.I.I.C.) and translator for French, German and English
Born in Germany, Elisabeth grew up in France in a bilingual family. After gaining her French baccalaureate, she attended business school in Paris and then went on to study business administration at the Technische Universität Berlin, followed by French and English at the Freie Universität Berlin.
Her first job on leaving university was with an accountancy firm in Paris. She then worked on the Paris Stock Exchange for a cocoa trader and later in the investment department of Berliner Diskonto Bank (now Deutsche Bank). During this time, she also took on freelance interpreting and translation work. She began her full-time freelance interpreting career in Berlin in 1979, where she remained until taking up her post with ARTE in 1992.
Responsibilities of Language Services at ARTE:
-          translating all the company's administrative and programme texts, including its website;
-          interpreting meetings and press screenings (simultaneous and consecutive);
-          interpreting TV and Internet programmes;
-          voiceovers for Internet clips;
-          recruiting interpreters and providing continuing professional development for media interpreters (e.g. voice coaching).