Yves Gambier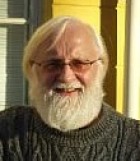 Docteur en linguistique
Professor Emeritus in Translation and Interpreting (University of Turku, Finland)
Visiting Professor at the I. Kant Baltic Federal University (IKBFU), Kaliningrad, Russia
MAIN INTERESTS
Translation Theory, Translation History, Socioterminology, Sociolinguistics, Language Policy and Language Planning, Bilingualism, Discourse Analysis (especially interactions between specialists), Training of teachers in translation and interpreting.
Has published more than 180 articles and edited or co-edited 20 books.
Since the beginning of the 90's, doing research in screen translation. Main publications in this field:
2018: Reception Studies and Audiovisual Translation, co-edited with E. Di Giovanni. Amsterdam/Philadelphia: John Benjamins.
1995: Communication audiovisuelle et transferts linguistiques/ Audiovisual Communication and Language Transfers (special issue of TRANSLATIO).
1996: Transferts linguistiques dans les médias audiovisuels (Ed. du Septentrion).
1997: Language Transfer and Audiovisual Communication. A Bibliography. Turku.
1998: Translating for the Media. Turku.
2001: (Multi)Media Translation. Concepts, Practices and Research. J.Benjamins.
2003: guest-editor of the sp. issue of The Translator, 9(2): Screen translation.
2004: guest-editor of the special issue of Meta 49(2): La traduction audiovisuelle.
2016: co-editor with Sara Ramos Pinto of the special issue of Target 28 (2): Audiovisual Translation: Theoretical and Methodological challenges"
Membership of EDITORIAL BOARDS:
Journals: Babel, Hermeneus, Koinè, Sendebar, Synergies,Target, Terminology, TTR.
Collections: general editor of the Benjamins Translation Library (John Benjamins); Scandinavian University Studies in Humanities and Social Sciences (Peter Lang), Traductologie (PU d'Artois).
Member of a number of ASSOCIATIONS. President of the European Society for Translation Studies (EST) 1998-2004.
Coordinator of a Lifelong Learning project (UE) on Subtitles and Language Learning (2009-2012).