Yota Georgakopoulou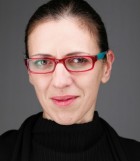 Panayota (Yota) Georgakopoulou is a leading audiovisual localisation expert, specialising in the application of language technologies in subtitling. She offers her services to high-profile organisations around the world as an independent consultant, advising on strategy, quality, tools, workflows, and language resource and data management.
 Yota holds a PhD in translation and subtitling from the University of Surrey and has over 20 years of experience in senior management roles in the audiovisual localization industry. She implemented the first university modules on audiovisual translation in the UK, published the first guidelines on subtitling templates, participated in multiple research projects on language technologies applied to audiovisual text, served as the Managing Director of the European Captioning Institute and most recently as Senior Director, Research & Int'l Development, at Deluxe Entertainment Services Group.
Her research interests include audiovisual localization, accessibility, crowdsourcing, machine translation, speech recognition, CAT tools, translation big data and the democratization of translation.