Wayne Garb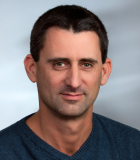 Wayne Garb is Co-Founder and Managing Director of Trans Titles Group and Co-Founder & CEO of OOONA.
Ooona is a market leader in web based software for the management and creation of translation, dubbing and subtitling tools since 2012.
Wayne's 25 years of experience in the field and innovative yet pragmatic outlook on workflows and work management, has enabled Ooona to lead the field and deliver cutting edge products and solutions to the market in a very short period of time.