Francesca Raffi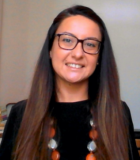 Francesca Raffi has a Ph.D. in Audiovisual Translation; in her thesis, she analysed the Italian cinema distributed in the UK from a diachronic and historical perspective.
She is currently working as lecturer and teaching assistant in English Language and Translation at the University of Macerata (Italy).
In July 2015, she was visiting researcher at the British Film Institute (London, UK), and in 2014 she was visiting Ph.D. student at Roehampton University (London, UK) Masters' Degree in Audiovisual Translation.
She is research team member of FACS (Full Access to Cultural Spaces) project at the University of Macerata (Italy), and in 2012 she worked as trainer in the first-level International Master's programme in Accessibility to Media, Arts and Culture (University of Macerata, Italy). Since 2011, she has been working in the Accessibility Team (surtitles, audio descriptions, tactile tours) of the Macerata Opera Festival (Macerata, Italy).
She is member of ESIST (European Association for the study of Screen Translation), IATIS (International Association for Translation and Intercultural Studies), SUBTLE (The Subtitlers' Association), EST (European Society for Translation Studies), and AIA (Associazione Italiana di Anglistica).