Christiane Hoffmann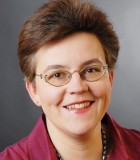 Christiane Hoffmann (Germany), STAR LTS, Germany
M.A. in Computational linguistics, French linguistics and Phonetics (University of Trier, Germany)
Christiane Hoffmann is a member of the support and training team of STAR Language Technology and Solutions in Böblingen, Germany, where the Transit/TermStar NXT/WebTerm software is being developed. She has worked for STAR for over 8 years after being engaged for 7 years as a software developer for a Machine Translation System.