Susanne Weber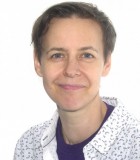 Susanne Weber is the Language Technology Producer at BBC News Labs, London, U.K.
She leads a team of developers and editors to design an innovative video translation tool which incorporates computer-assisted translation and Text-To-Speech voice synthesis. The pilot launched in 2015 for BBC Japanese and for BBC Russian in 2016.
Susanne is also the BBC's project lead for the H2020 EU funded project SUMMA. This Big Data project will build an automated media monitoring platform across nine languages.
She graduated in English & America Studies at Johann-Wolfgang-Goethe University, Frankfurt, Germany. In 2001, Susanne completed her training as Studio Manager at the BBC and worked as sound engineer in BBC World Service radio and television until 2015.