Damián Ricardo Santilli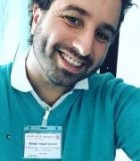 Damián Santilli is a Sworn English<>Spanish Translator graduated from the Universidad de Morón, and also, a Certified International Spanish Copy Editor and Proofreader, certified by the Fundación Litterae and the Fundación del Español Urgente (Fundéu). His areas of expertise are subtitling, software localization, information technology (IT), engineering, and mechanics.

He's a Lecturer of the subjects Translation Technology and CAT Tools and Documentation Applied to Translation for the Degree Course on Translation (English) at the Universidad del Museo Social Argentino. He also works as a Lecturer of Translation Technology at the Master's Degree in Translation and Interpreting at the Universidad de Buenos Aires (UBA).

Since 2009, he offered more than 100 workshops and disertations on audiovisual translation, translation technology and Spanish proofreading to more than 1,000 students in different cities of Argentina (Buenos Aires, Córdoba, Mendoza, Río Negro, Mar del Plata, Santa Fe) and the world (Peru, Germany, Uruguay).

He's Co-author and Main Coordinator of the Manual de informática aplicada a la traducción, the first comprehensive book written on translation technology in Spanish, published in 2016 by Editorial CTPCBA.

He's a member of the Colegio de Traductores Públicos de la Ciudad de Buenos Aires (CTPCBA), the Sociedad Española de Lenguas Modernas (SELM), the Unión de Correctores de España (UniCo), and the European Association for Studies in Screen Translation (ESIST).