Luisa Maria Pires Miguel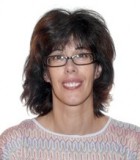 Luísa Maria Pires Miguel is a graduate in Philosophy by the Faculty of Letters, Lisbon (2003) and holds a master degree in Alternative Communication and Assistive Technologies from Lusófona University in Lisbon, Portugal (2012).
Since 2009, her main research interests are focused in inclusive pedagogies, informal learning, accessible digital content and alternative contexts of communication in the field of Special Education Needs.
Between, 2012-2015 - her studies were based on the development of a theoretical framework based on a Learning Experience in Audio Description, nearsighted children to enhance new reflection skills. 
Presently, she is taking a PhD course in Multimedia in Education, on Aveiro University and investigating a new direction in the previous work, were the main interest is to explore the potentials use of collaborative audio description work, between sight and visual impairment children from basic schools.