Allison Smith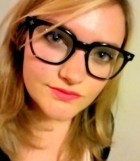 Allison Smith is the Senior Localization QC Specialist at Netflix. She is responsible for the quality of the localized assets for Netflix original programming in more than 22 languages. As part of the Localization QC team she assures that the creative vision of programming is upheld through the localization process and that Netflix members have the best possible experience.
Allison plays an important role in innovating and optimizing the Localization workflows at Netflix. Together with her colleagues, she designed a process whereby subtitles are created in 22 languages in 12 hours for Netflix's first talk show, Chelsea. She has also played an integral role in developing Netflix's new, proprietary QC software.
Allison has a master's degree in neurolinguistics from the Universities of Groningen and Potsdam. Previously, she worked at National Geographic supervising the translations department.