Carlos Alberto Martín Edo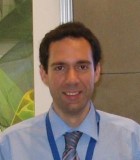 Carlos Alberto Martín Edo obtained the telecommunication engineering MS (ABET accredited) in 2004 from the Universidad Politécnica de Madrid (UPM) and the Master of Advanced Studies in the PhD programme of signals, systems and radiocommunications at the same University in 2007. In 2014, he graduated in social and cultural anthropology by Universidad Complutense de Madrid. Currently, he is elaborating his doctoral thesis about multimedia accessibility.
Since 2004 he works for the Grupo de Aplicación de Telecomunicaciones Visuales (GATV) of UPM (Department of Signal, Systems and Radiocommunications, SSR).
His research activity has been always related to audiovisual systems, including areas such as accessibility for people with disabilities, interactive TV, connected TV, Ultrahigh Definition TV, content semantic indexing, audience measurement and DVB system engineering.
During the last years, he has been involved in more than fifty research and development projects, including European, national and private contracts.