Tom Donoghue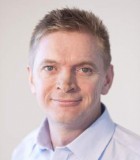 Tom Donoghue started his career in broadcasting at Viasat in the UK, working his way up through traffic and library to become Head of Media Operations at ARA Programming and Distribution, part of the Middle East Broadcasting Company. In all of his broadcasting roles he was responsible for the commissioning and delivery of subtitling and dubbing in various languages.
He then moved into broadcast software, working for Pilat Media for 16 years, starting as an Implementation Consultant, and progressing through Head of Implementation to VP of Implementation Services, with a period as the Head of Pre-Sales. During his time at Pilat, Tom led the implementation of broadcast software at over 15 national and international broadcasters including Discovery, BBC, RTE, ESPN, Sky Italia, Chello Media & HBO.
Since May 2016, Tom has been Consulting Manager at Cognizant, and is currently leading a major project implementing a large-scale channel management system at an international broadcaster in London.