Katherine Hodkinson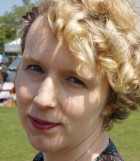 Katherine joined BTI Studios as a subtitler in 2005, having graduated from Leeds University with an MA in Applied Translation Studies in 2003. She then moved through various management roles and has been Director of Subtitling Operations at BTI Studios since 2015.
BTI Studios is one of the world's largest media localization and access services companies in the entertainment industry, operating in the market since 1995. BTI provides localization (subtitling and dubbing), access services (audio description and closed captioning) and media solutions in any language for broadcasters, film studios, VoD platforms and distributors.
As Director of Subtitling Operations, Katherine manages BTI's international subtitling resources, encompassing both in-house and freelance subtitlers and QC staff. She is also responsible for keeping across new developments in subtitling and other localization technologies and establishing production workflows to deliver quality subtitles according to customer requirements and timelines.
Katherine has language skills in French, Spanish and Portuguese and is trained in audio description.