Nefeli Antonopoulou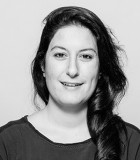 Nefeli Antonopoulou studied Linguistics at the University of Athens and is a certified PRINCE2 practitioner.
She joined the world of Audiovisual Translation as a Project Manager with the European Captioning Institute, which played a pivotal role in introducing accessibility services, i.e. subtitles for the deaf and hard of hearing and audio description for the visually impaired, to the Greek market.
Following ECI's acquisition by Deluxe, Nefeli transferred to London, where she handled projects spanning all lines of traditional audiovisual translation services for clients ranging from major Hollywood studios to independent filmmakers, as well as innovative ones to accommodate both emerging platforms like Netflix and new media such as mobile applications and social media feeds.
She subsequently moved on to Hogarth Worldwide, a leading marketing implementation agency, where she helped Blue Chip clients realise their brand potential by catering to their Transcreation needs with a strong focus on TV, print and digital advertising production.
Currently, Nefeli works for World Writers, the creative language solutions arm of Williams Lea Tag, as Transcreation Director.